October 24, 2014
Thomas R. Pickering Foreign Affairs Fellowship Program
Croft juniors, seniors and alumni interested in a career with the Foreign Service should consider a Thomas R. Pickering fellowship. Funded by the U.S. Department of State and administered by the Woodrow Wilson National Fellowship Foundation, the Thomas R. Pickering Foreign Affairs Fellowship provides funding to students interested in pursuing a Foreign Service career with the U.S. Department of State. While this is an extremely competitive fellowship, all eligible Croft students (U.S. citizens with a GPA of 3.2 or above) are encouraged to apply, especially women, members of minority groups historically underrepresented in the Foreign Service, and students with financial need.
September 23, 2014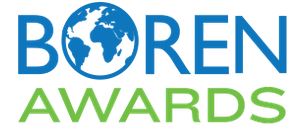 Boren Awards Scholarships and Fellowships for International Study
Boren Scholarships and Fellowships provide unique funding opportunities for U.S. undergraduate and graduate students to study less commonly taught languages in world regions critical to U.S. interests, and underrepresented in study abroad, including Africa, Asia, Central and Eastern Europe, Eurasia, Latin America, and the Middle East.